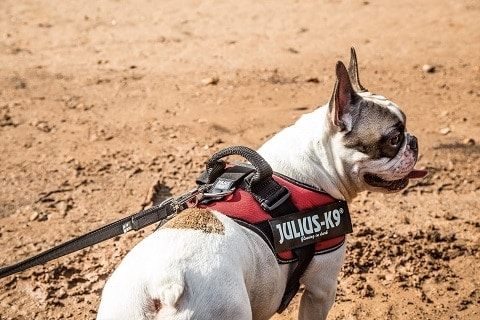 Dogs that pull on the lead not only cause their owners a great deal of stress but are also at risk of potentially serious injuries. Effectively stopping your dog pulling on the lead, the Julius K9 No Pull Harness makes your daily walks less stressful for you and helps to protect your furry friend against potentially serious injuries.
The Dangers of Dogs Pulling on a Collar & Lead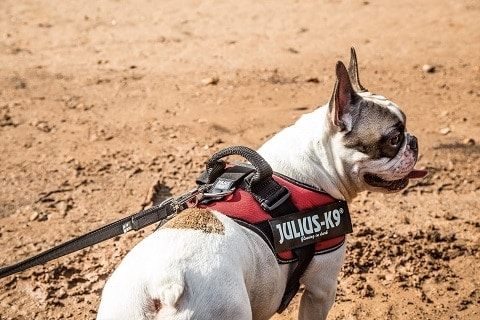 Causing a great deal of coughing and gagging, pulling on the lead can easily cause comparatively obvious injuries to a dog's neck and trachea.
Stressed out by being dragged around by their dog, owners of dogs that pull often respond by either jerking on the lead or using a retractable lead to try and stop the pulling.
This can, however, not only make injuries to their dog's neck & trachea worse but may also cause less obvious, yet even more serious injuries to their pooch's vertebrae and nerves.
Potentially resulting in permanent damage, such injuries could also cause various other medical issues – including paralysis, neurological issues and/or organ damage.
Collars do, for example, rest against dogs' thyroid gland. Repeated pulling/jerking on the lead can cause excessive pressure on this gland, and if it is injured, the dog may ultimately end up suffering from hypothyroidism.
Similarly, jerking on the lead can cause damage to the nerves leading from the dog's neck down to the paws. At best, this kind of nerve damage may manifest itself by the dog continuously licking his/her paws or scratching his/her ears or 'armpits', all of which are frequently misdiagnosed as symptoms of allergies.
At worst, compression of/damage to these nerves could lead to the dog's limbs becoming paralysed. Increasing pressure on the neck's jugular vein, compression of said vein may also cause seizures and ultimately epilepsy.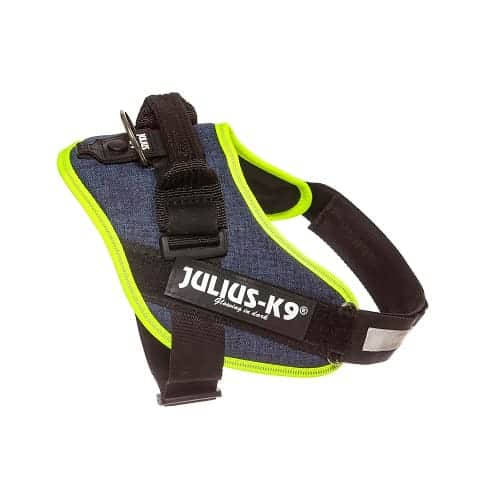 Stopping dogs dead when they reach the lead's end by placing pressure on their necks with all the force/energy they were using to run, retractable leads can further exacerbate such injuries.
Julius K9 No Pull Harness
Robust enough even for working dogs, rough-terrain hiking, sports and other high-impact activities, the stylish and extremely comfortable, front-attaching Julius K9 No Pull Harness discourages pulling and prevents injuries like those mentioned above through a combination of:
Continuously adjustable chest & tummy straps to ensure a perfect fit whatever your dog's shape and size;
A breathable, skin-friendly inner Ökotex lining and, perhaps most importantly,
Even force distribution, which ensures any pressure generated by your dog pulling is distributed evenly across his chest and tummy, rather than being focused on his neck.
Featuring a crash-tested heavy-duty buckle, a back handle (all sizes except Baby 1 & 2) grip allowing you to lift/hold your dog for short periods and interchangeable phosphorescent patches, this premium-quality no pull harness also has:
Reflective chest straps and edging for added safety at night/in poor weather conditions, and
A stainless steel INOX® lead attachment ring positioned specifically to make sure walks are more comfortable than with a collar at the back.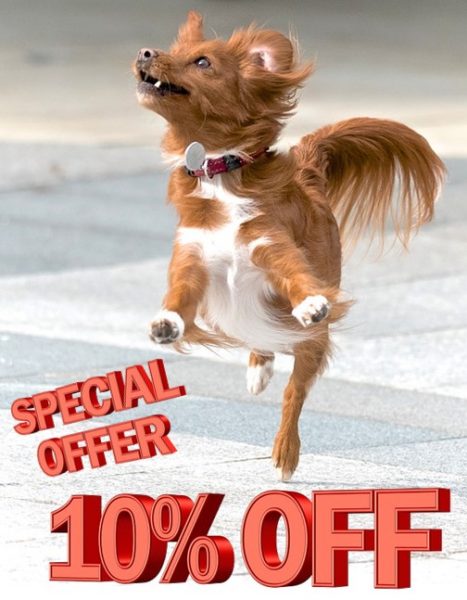 In a nutshell, replacing your dog's collar with a Julius K9 no pull harness is a good idea because it not only discourages pulling but ensures no excessive pressure is placed upon your dog's neck in the event of him/her doing so – ensuring a comfortable, stress-free walk for both your dog and you and preventing potentially serious injuries to your dog in the process.
Exclusive Reader Offer
Are you looking to buy a harness for your dog? PetshopDirect are currently offering readers a 10% discount on all our best-selling Julius K9 harnesses, including the:
To take advantage of this offer, please quote voucher code HARNESS10 at the checkout – but hurry this offer is only valid while stocks last.