Designed for dog training sessions, the Flexi Giant Retractable Tape Dog Lead combines traditional Flexi advantages with modern features.
Now among the world's most popular retractable lead ranges, the Flexi Giant Retractable Lead range keeps owners in control while allowing dogs to freely roam about and explore.
Giving your furry friend freedom to wander in safe areas, this easy to operate, comfortable giant tape lead can be quickly and easily retracted to keep him/her close when walking past traffic or in busy areas.
Giant Retractable Tape Dog Lead Features
Available in 4 sizes*, this product features a:
Solid soft grip handle
Sturdy, neon-coloured tape
Chromed snap hook and
Neon-coloured print
*Please see the guide below for details.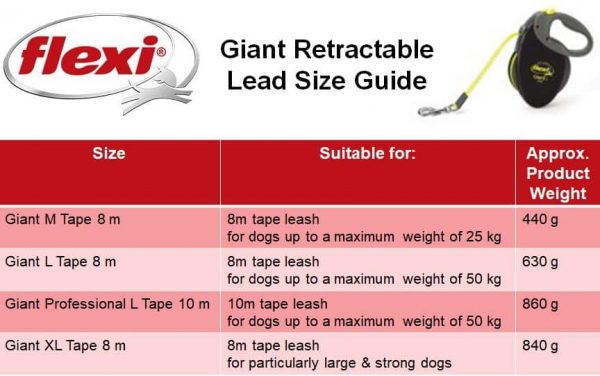 Discover the entire flexi range > Click Here