Pet Shop Direct carry an extensive range of Ancol Dog Products, the vast majority of which are consistently among our range of best-selling products. Here is why this brand is so popular among dog lovers.
Our Ancol Range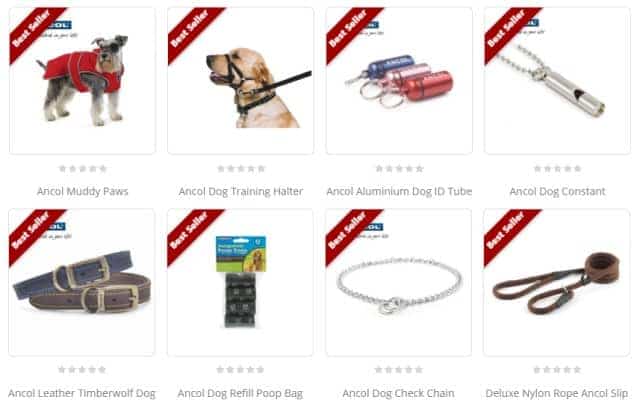 Our range of Ancol products covers everything you need to keep your beloved pooch happy, cosy and safe, including:
Collars, Leads and ID Tubes
Harnesses, Coats and Jumpers
Training & Grooming Equipment
Toys, Poop Bags & Dispensers and More
As you will see when perusing our range, most of these products are best sellers.
So, Why Are Ancol Dog Products so Popular?
Established as a family owned and run business in 1971, Walsall (west Midlands) based company Ancol have been specialising in the design, development and manufacture of both functional and luxurious pet products for almost 50 years (48, to be precise).
Combining unrivalled experience, knowledge and passion for the well-being of pets with honesty, integrity and a never-ceasing appetite for exciting new product development, the company's founders, Colin and Ann Lane ensure every one of their products is exceptional via:
Thorough trend analysis
Innovative design and
Rigorous testing
Having expanded from being manufacturers of premium-quality leather dog collars & leads to becoming a market leading pet accessories supplier carrying an ever-growing range of more than 2,000 products not only for dogs but also for cats and other pets, the company bases everything it does on its core principles:
Pet Well-Being
Functionality and
Impeccable Design
Striving to maintain these principles at all times, Ancol ensure the consistently high quality, durability and reliability of all their products by thoughtfully designing, carefully crafting and meticulously testing every one of their products throughout every stage of production.
In a nutshell, Ancol products are exceptionally popular among discerning dog lovers because there are invariably of superior quality, durable and reliable in their functionality.
Browse the Range
Whether you are looking for products to ensure your pet is safe and sound while walking, travelling, etc. or wish to purchase toys, training or grooming accessories; whether you wish to treat your furry companion to a cosy jumper or coat or need to stock up on poop bags, our Ancol product range covers all your pet's needs to perfection.
Check out our current range of Ancol products here or, if you are looking for something specific, browse our entire range by product type.
Get in Touch
Can't find what you're looking for or need more detailed information on any of our products? Give us a call on +44 (0) 20 8168 0099, e-mail us: [email protected] or contact us online today – our helpful team will be happy to offer advice and answer any questions you may have.